In 1988, Vendyl Jones took actual measurements, showing the 'vessel' to be 515 feet long and 139 feet wide [which goes against the Biblical 50 cubits in width, which would have measured about 86 feet]. It also rests at an altitude of 7000 feet, near the village of Uzengili and immediately below the mountain of Al Judi, named in the Koran as the resting place of the Ark. Round about lie huge stones with holes carved at one end, said to be 'drogue stones' dragged behind ancient ships to stabilize them. David Fasold also reported that 'radar imagery at about 75 feet down from the stern is so clear that you can count the floor- boards between the walls.'
11:44. And it was said: "O earth! Swallow up your water, and O sky! Withhold (your rain)." And the water was diminished (made to subside) and the Decree (of Allah) was fulfilled (i.e. the destruction of the people of Nuh (Noah).
And it (the ship) rested on Mount Judi
, and it was said: "Away with the people who are Zalimun (polytheists and wrong-doing)!"
[
Translation of the meaning of the Quran, Surat Hud (Chapter 11), verse 44
]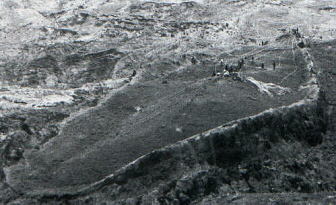 For more information see:
The Quran and Noah's Ark